Office Hours:
7:30 a.m. – 4:00 p.m. 
Eagle Valley Elementary
 "Ensure Student Learning and Success"
Please like our school facebook page
Hi Eagle Valley Family,
I am Principal Freeman. It is my pleasure to join the Eagle Valley community.
A little about me. I did not start out as an educator. I actually started my work experience with Safeway grocery stores in Southern California and spent a dozen years working in almost all of the departments. While the money was good, it was not a very rewarding or fulfilling job. With my wife's permission, I quit that job and we moved to Utah so that I could go back to school and get a teaching degree. After graduation, I was hired at Valley View Elementary in Pleasant Grove as a 4th grade teacher: I also taught 3rd grade too. I then was hired at Cedar Ridge Elementary as a science specialist: teaching science all day was a great fit for me and really taught me a lot about integrating learning. I really had no thought of becoming an administrator. My principal, Mr. Cherrington asked me a few times to fill in for him at Cedar Ridge. I did. I also was spending 5 or 6 weeks each summer at Clear Creek Summer Camp where I also was filling in for Mr. McAffee while he was away from the camp. On a whim, I applied to BYU Leadership Program and was accepted. During my course work, I did internships at Santaquin Elementary, Lakeridge Jr. High, and Lone Peak High School. After completing my degree, I became the principal of Suncrest Elementary and most recently Aspen Elementary.
As I have met with the awesome staff of Eagle Valley and began planning next year, I anticipate being a part of something great. I am excited to join the Eagle Valley community and get to know your kiddos.
Let's Get Ready to SOAR!
Mr. Freeman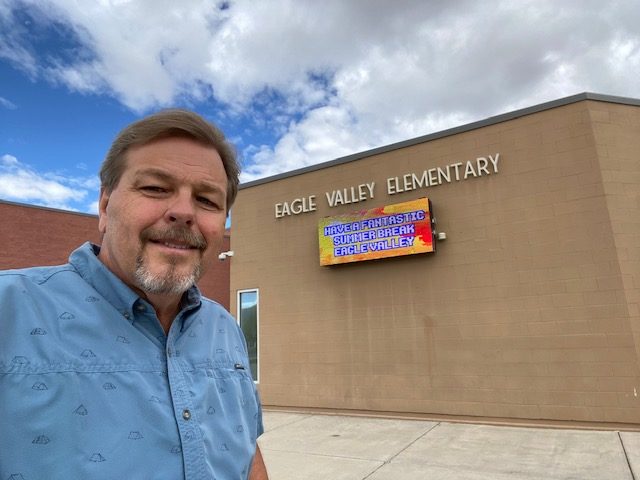 Kindergarten
AM: 9:15-12:00
PM: 12:45-3:30
AM: 9:15 – 12:00
PM: 12:45 – 3:30
Lunch Schedule
1st Grade- 11:30-12:05
2nd Grade- 11:40-12:15
3rd Grade- 12:00-12:35
4th Grade- 12:10-12:45
5th Grade- 11:50-12:25
6th Grade- 12:20-12:55